SPRAYGUN SPRAYCOLOR® BRAND TYPE SC (STANDARD PRESSURE)
SC spray Gun: a simple, easy to use automatic gun allows to obtain excellent results in different typology of varnishing with pigment, resin, water-solution, lacquer or solvent.
The spray is obtained by medium pressure (from 3-5 kg/cm2),obtaining the right equilibrium between homogeneity of the varnish transfer and control of the over-spray in the varnishing cabin.
This model's quality is the semplicity of easy regulation, realizable in only a few minutes.
Technical characteristics
air pressure of opening command: CYL 3.5 bar max 4.0 bar
pressure of paint inlet: 1 bar
air pressure of atomization: ATO 3 bar max 4 bar
Weight: 1010 gr
Consumption: 265 l/min
Ideal for products with high, medium, low density
connections for air and paint: G ¼"
fixing to the machine: 2 holes Ø 10
Available diameters: Ø 0.8 – 1.0 – 1.2 – 1.5 – 1.7 – 1.9 – 2.2 – 2.5
Available heads : F – S – L – (P – for diameters wider than 1.5)
The standard supply includes the kit needle-head-nozzle replaceable without use of particular equipment.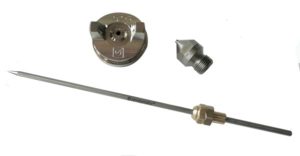 Download data sheet.
spare-parts-spraygun-sc
Download Sprayguns SC Manual Istruction .

Instruction-manual-spraygun-sc
Category: SPRAY MACHINES AND FINISHING
Tags: leather spraygun, spraycolor, spraycolor sc, spraygun for tannery, spraygun medium pressure, spraygun sc, spraygun spraycolor, spraygun standard for tannery, spraygun standard pressure, SPRAYGUN standard type, SPRAYGUNSC, spraying machine, standard pressure