POLISHING GROOVED ROLLER
Pre-assembled 100% wool cloth grooved disc roller in green colour
, used in tannery on Polishing Machine.
These wool roller enable to polish the leathers (suitable for clothing leathers) with an high performance in leather process.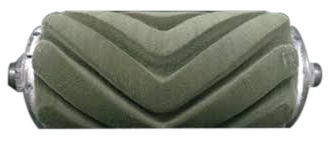 Grooved Wool felt disc roller in white colour, used to get a semi-glossy effect on reptile leathers.

Cotton canvas roller for specific process with abrasive wax .


We can supply pre-assembled roller or complete roller with shaft (set including steel core, bearings, etc.).

The rollers are available with 6 different holes, suitable for every kind of polishig machines.
Width Sizes: mm 240 – 450 – 600 – 1200 – 1500 1800 – 2400 mm.
Polishing Machine: Bergi, Ficini, Aletti, Soldani, Gipra etc.