ELECTRONIC CROCKMETER
The crockmeter is used to determine the solidity of the colors to friction on fabrics, leather, carpets and yarns. The test can be performed both dry and wet.
Evaluation: after rubbing the crocking cloth against a colored test specimen for the prescribed cycles, the crocking cloth is removed from the instrument and the amount of color transferred to it is compared to Grey Scale. In this way the amount of color transferred is evaluated.
A counter allows to set the correct number of frictions for the required test, automatically stopping the tool when it reaches the number of cycles established.
The instrument is provided with two friction ankles. One is cylindrical with a diameter of 16mm, the other is rectangular and it measures 25,4x19mm (optional), corresponding to the required standards.
It provided with an safety Plexiglass covering.
Models available:
1 POSITION CROCKMETER
Dimensions: 200 (H) x 575 x 230 mm
Weight: 17kg
Voltage: 230/110V 50/60Hz
Power: 100W
4 POSITION CROCKMETER
Dimensions: 280(H) x 600 x 600 mm
Weight: 40kg
Voltage: 230/110V 50/60Hz
Power: 100W
INTERNATIONAL STANDARDS:
– UNI EN ISO 105X12/D02
– BS 1006 D02
– AATCC 8/165
– BS 4655
– NEXT 6
– M&S C8
OPTIONAL:
– Crocking cloth cotton 5×5 cm. for Crock meter (500 Pcs)
– Grey Scale for Color Change ISO 105 – A02
– Grey scale for Assessing Staining ISO 105 – A03
This model is also available in manual (Manual Crockmeter).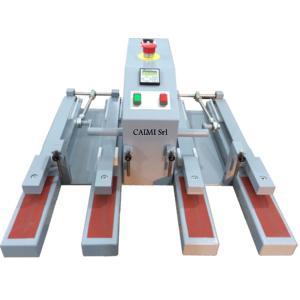 Download data sheet.
CROCKMETER ELECTRONIC ENG